Meet Dr. Jacob Calder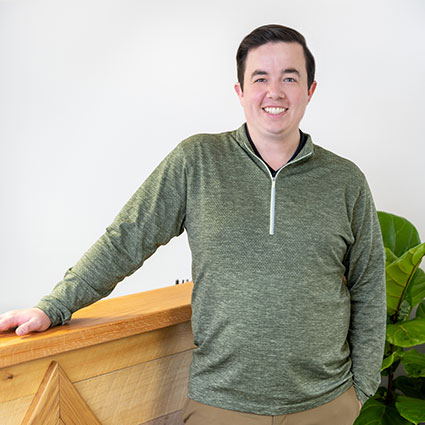 Discovering Chiropractic
A Connecticut native, Dr. Jake grew up knowing he wanted to help people in some capacity. As a teen, he and his mother were injured in a car accident. His mother's injuries exacerbated her pre-existing frozen shoulder condition. When PT and other approaches didn't help, they tried chiropractic and finally found the results they were looking for.
Dr. Jake still wasn't sure about a career, but in his freshman year of college he had a seminar where a chiropractor lectured about the principles of chiropractic care—that's when all the pieces fell into place, and Dr. Jake knew that chiropractic was the path for him.
EXPLORE OUR SERVICES

Education and Training
Dr. Jake studied exercise physiology at the University of Delaware and then received his Doctor of Chiropractic degree from New York Chiropractic College in 2019. He also holds Proficiency rating in Activator Methods® and is certified in Sports Science and Human Performance, including Heads Up! concussion management and care.
His gentle care is effective for patients from infants through the elderly, and as a lifelong hockey player, he has a special passion for helping athletes of all ages and skill levels rehab and play at their highest level.
Joining Forces
While at chiropractic college, Dr. Jake met his future wife, Dr. Saxon Ireland. After working in separate clinics as associates, they have teamed up to open Forest City Chiropractic and Acupuncture. The space has been a chiropractic office for over 40 years, and Dr. Jake and Dr. Saxon have brightened and modernized the office to become a healing haven for individuals and families.
Away from the Office
With a new home and a new practice, Dr. Jake doesn't have a lot of free time. When he does, he still enjoys playing hockey, and he and Dr. Saxon love hiking with their Lab/Shepherd mix, Hank, and spending time on the Connecticut River.
Schedule Today
Contact us today to book your first appointment.

Dr. Jacob Calder | (860) 788-3399